COME IN, I'M HOME
I have been just WILD this summer: going here and there, having the most wonderful company from out of town, making marvelous new friends . . . and I want to tell you all about it; but, first, I've got to tell you how wonderful my very own night club show, that happened Sunday night August 27, 2000, at Atlanta's fabulous Metro, turned out to be!
See Betty Jack Devine, Dixie Richardson and special guest star Brittany Fairchild in The Old School Family Reunion Throwdown on your television as The American Music Show kicks off it's fall TV season with this spectacular concert event: Friday September 22 at 11pm and again Saturday September 23 at 11:30pm on People TV - Channel 24 on Atlanta's AT&T Broadband (formerly Mediaone Cable TV)
OUR SPECIAL GUEST DJ

all the way from New York City

DJ TENNESSEE

Tennessee worked us all into a frenzy that night, and if you want a glamourous peek at what all happened there, keep going for ARGE's Polaroid pictures
THE OLD SCHOOL FAMILY REUNION THROWDOWN

ARGE's Polaroid pictures tell it all!
| | |
| --- | --- |
| | Did I go on enough about that. I hope so because I really want you to to see it. You know, I wanted to call it The Old Fools' Family Reunion Throwdown, but Dixie thought that would make people think Lady Bunny would be there and wouldn't let me do it. Anyhow, on with the party! |
As you can see, I really had a good time riding in Atlanta's Gay Pride Parade. This years Pride Celebration was one of the nicest ever! There was an overwhelming feeling of enthusiasm and harmony that whole weekend and the organizers of the event as well as hundreds of thousands who participated deserve the loftiest commendations for its terrific success!

BRAVO TO EVERYONE INVOLVED!

I have assembled a lovely scrapbook of my day at the Gay Pride Parade for you to enjoy. Thanks so much to Nude Peter and the Absolut Boyz for being my handsome escorts that day!
| | |
| --- | --- |
| | Angie Bowie did so want to stay over and attend all of the Pride Celebration, but her schedule required her to be back out West. That wave she is doing would have been perfect for riding in a parade, don't you think. Angie and I did, as always, have a fabulous time together during her visit to Atlanta in June. Angie was here for an appearance on Peg's TV Show Mouth of the South Live. Peg, you have the very best guests! |
Diamond Lil and DeAundra Peek's Together At Last Concert at the Metro was a miracle to behold. Only in our wildest dreams could anyone ever imagine that these two entertainment giants would perform together in such an intimate setting. Yet the genius of Metro's promotion director Roger Warren produced just that for us lucky attendees to enjoy. Truly Diamond Lil and DeAundra Peek's concert was awesome and will be talked about for ages just like Judy's at Carnegie Hall.
My dear friend and artistic photographer Paula Gately Tillman was present for that special night, and you are lucky enough to see her photographic impressions - so definitely take advantage of that.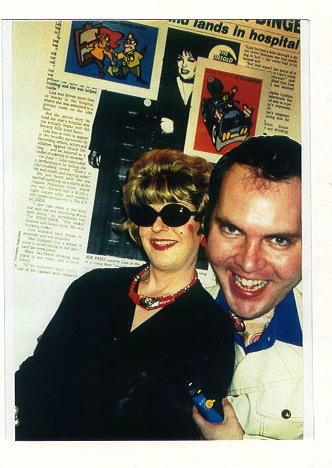 You know what they say: Big Head, Big Pictures. Well, ARGE has a big collection of Polaroid Pictures, and someday I hope he'll let me show you some of the X-rated ones that will really turn you on. But for right now, I've got some of ARGE's latest "takes" of Atlanta just for you.
Click here for
ARGE's Newest Polaroids
Mr. Chuck and I are always talking about the 411. But there are so many affairs and diversions, it gets hard to keep track of everything that's going on. That's why I've installed this new section so everyone can help if they'd like. Just send me an electronic image from an affair or diversion you've eyewitnessed, and I'll put it right up for everyone to see.

Michael Malone has provided the fun pictures there right now from Bunny's Show and Glitterdome.
| | |
| --- | --- |
| | If you haven't seen R.O. Youngblood's exclusive photos from the Diana Ross and the Supremes Concert in Atlanta (one of the last they ever did before the tour folded), it's not too late. R.O. has graciously extended the exhibit for a few more months. But don't take any chances, look at them now. |
---
There's important election just days away. For vital information on whom to support or whom to avoid, visit gayvote.com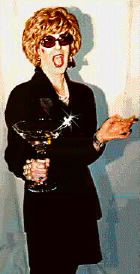 BETTY JACK'S QUESTION FOR YOU:
Tell me what you think!
---