THESE ARE PICTURES FROM CHER'S CONCERT AT ATLANTA'S COCA-COLA LAKEWOOD AMPHITHEATER. SHE LOOKS EXACTLY LIKE SHE DID ON HER HBO CONCERT SPECIAL:

ABSOLUTELY FABULOUS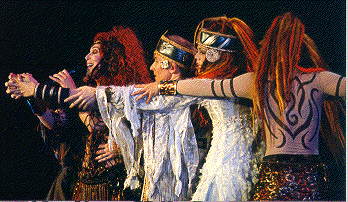 DEBBIE HARRY TURNED ON THE HEAT AT BLONDE'S CONCERT AT THE TABERNACLE IN ATLANTA. SHE CAN COOK UP SOME REALLY HOT STUFF!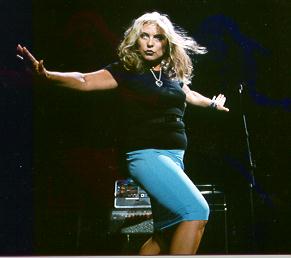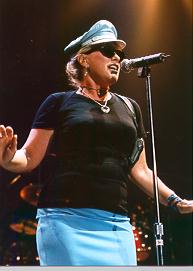 THANKS AGAIN ROBB D. COHEN FOR GIVING ME THESE STRIKING PHOTOGRAPHS TO SHOW ON MY WEB SITE. YOU'RE SUPER SWEET, DUDE.
DO YOU KNOW WHO THIS FAMOUS CELEBRITY IS?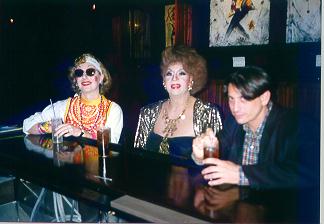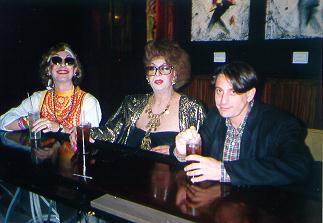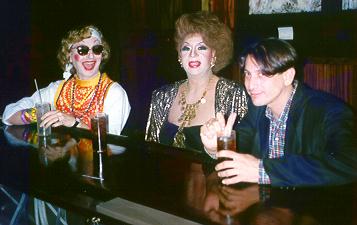 Did you guess correctly? Well it's Dorian Cory, the famous tranny star of Paris Is Burning; and she is with the film's co-producer, Barry Swimar. If you love Paris Is Burning as much as I do then you know the movie is all about Voguing and right after these pictures were taken Dorian took me right onto the big dance floor at Velvet and taught me how to Vogue and I've been doing it and doing it until this day. What I didn't realize at the time was that she had a dead body at home in the closet of her Manhattan flat that she had mummified after she had killed the person some years before. That was a shocker, but she was such a gentle and gracious lady to me I never would have guessed it in a million years. Dorian we miss you, but I know you're up there always turning Heaven out for even more fabulous Xtravaganza Balls!</I>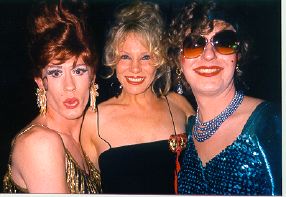 Angie Bowie and Daisy Chain - I love you both so much. Aren't they the perfect way to top off my Celebrity Picture Page!