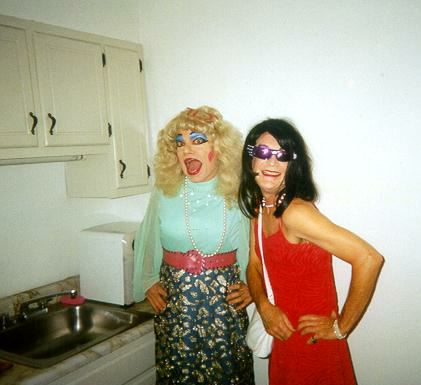 DeAundra and I were ready to leave for Wigstock at 2:30pm because Bunny wanted us there right on time for our performance at 6:45. We were so excited as you can see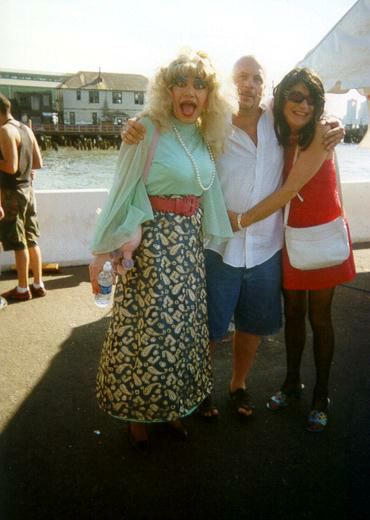 Our handsome and gracious host while we were in New York was Ed Woodham. He personally drove us across the Brooklyn Bridge to the 14th Street Pier on the Hudson River and here we are backstage at Wigstock. Ed inspired and co-produced the fabulous TV series called The IT Factor on the Bravo Channel. He is so cool.
One of the first celebrities we met was David Dalrymple, America's top new clothing designer. He's head designer for Pat Field. David invited us to his Fashion Week fashion show that next weekend but our plans weren't flexible enough to stay in New York that long as I have home school to teach and Miss Singsym was expecting DeAundra back for her public school field trip to see the little three-headed calf at the South Fulton County Fair.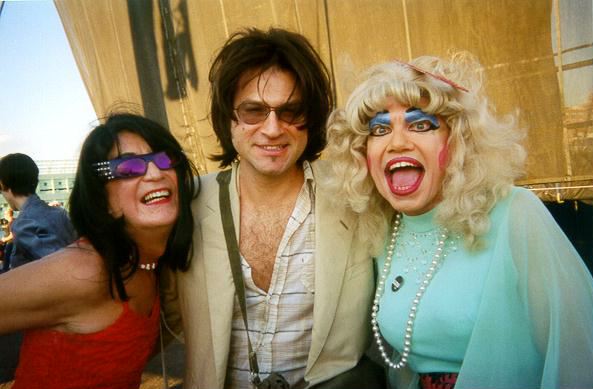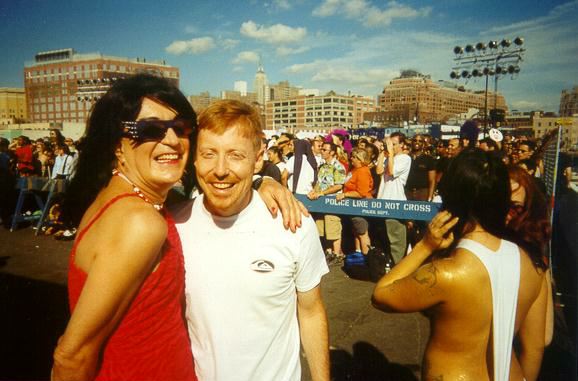 It was so nice meeting Lahoma. I had seen her before on Current Affair, Inside Edition, PM Magazine, and Geraldo Rivera I think. If you are wondering, she's living now as a man and you'll be surprised by this - she is still friends with Lady Bunny even after all the drama they have had!
Here are some of the many exciting celebrities we got to visit with backstage at Wigstock 2001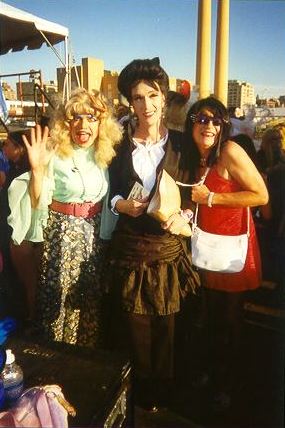 That's Hattie! She was with the Jackie 60 group that presented an animated tableau of the Old South or some other moment from the past, I'm not sure which. She's opening a new club soon called Daddy's.
The Chicago Boys who are loving New York were so nice to us: Steve Lafrieniere, John Sanchez, the new one, Robert Saaf and Brian who is the curator for the Japanese Garden at the Brooklyn Botanical Gardens.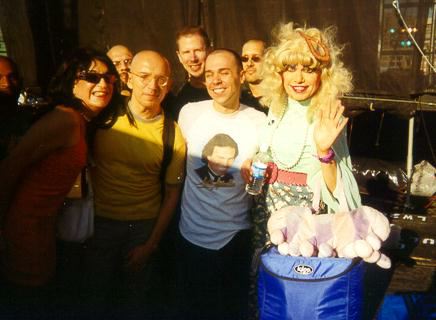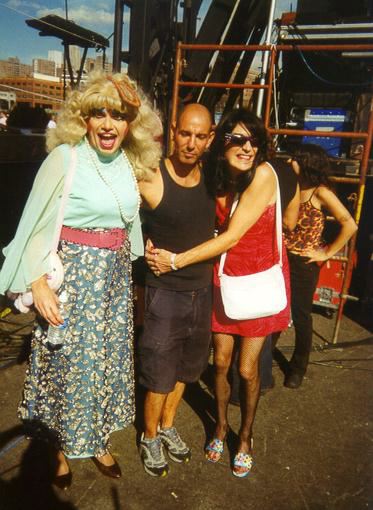 Taboo has started living as a man too. Some kind of new fad up there I bet.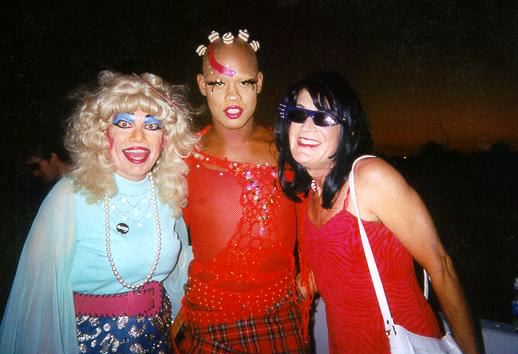 Kevin Aviance - I wish everybody could have seen that incredible choreography he did to his new song. It was a wonderful honor to get to meet him.
We stayed stayed at Wigstock until after Midnight and then we went to Larry Tee's new nightclub Club Badd, which like all of Larry Tee's nightclubs, has gone out of business now.
On the way we ran into these cute fans of DeAundra's and really, fans were stopping her everywhere but the Dazzle Dancers were so adorable we just had to have some pictures made.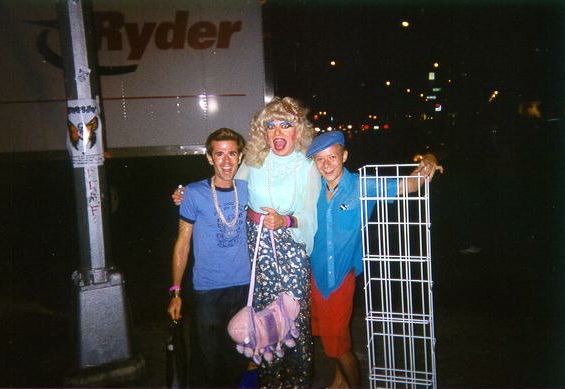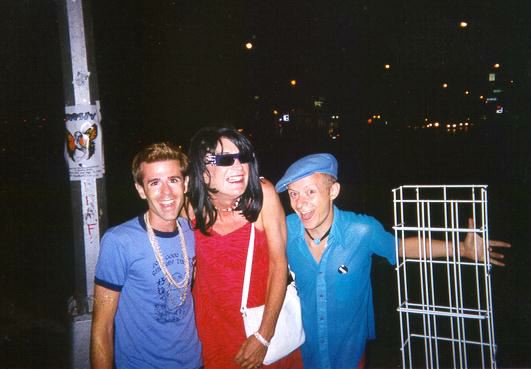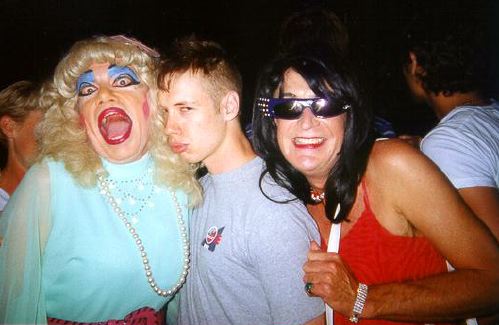 He's one of the Badd Boys who couldn't be badder - Conrad. Thank's for making us feel right at home at Club Badd.
Ed and Kim were our most gracious hosts for our entire Wigstock experience and they hooked us up for everything. DeAundra and I appreciated it so much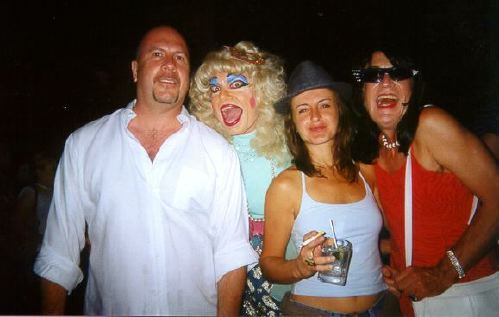 Here we are afterwards, at 5am, after 15 hours of non-stop partying and we are as fresh as spring flowers. We had a whole hour left before we had to rush to the airport for our return trip to Atlanta. Thank you Lady Bunny and DeAundra for making this trip possible for me. Love, Dixie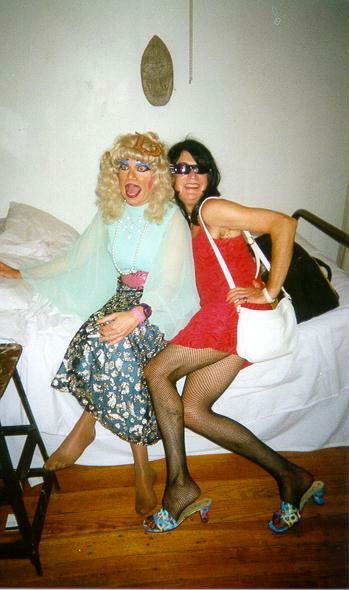 Back in our home in Dunwoody, I told my family about my triumpant New York debut. They were so happy for me and quite impressed.
MY BEAUTIFUL FAMILY: My husband ARGE ; Little Arge, age 9; Bettie Pam, age 6; and Dixie Sue, age 11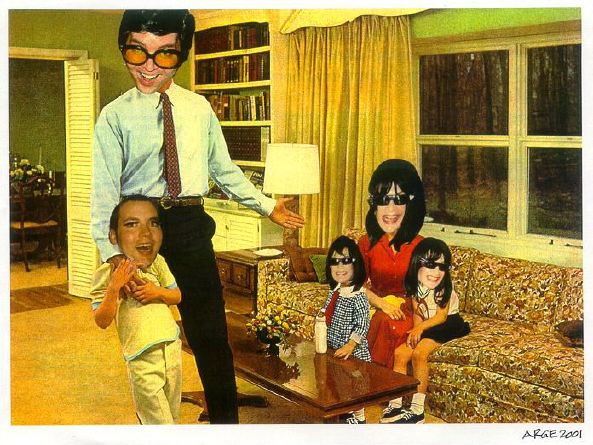 There's so much more to see at