Drag Queens Play Texas Hold'em
at The Vegas In Space Casino
We were warmly greeted at the door by our hostesses and some of the other poker players for the night.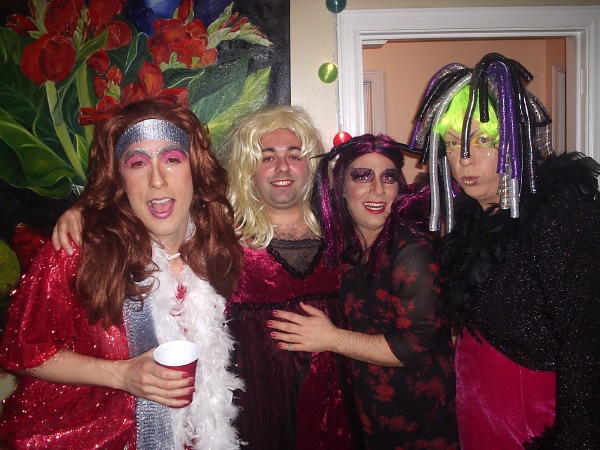 That's Danny (one of our hostesses) on the left, Missy Winner, Dana (the other of our hostesses) and one of those scandaleous Jenkins sisters - I'll tell you more about them later on. I wish I could remember Danny and Dana's drag queen names, but there was too much excitement that night.
The players could earn extra money during the evening taking on bartender duties. That's the handsome writer Andrew Alexander mixing up the Gin Rickys
We were introduced to the Star Players before the game began. They seemed so demure at first, but when the Texas Hold 'Em game began, they turned into the fiercest of queens.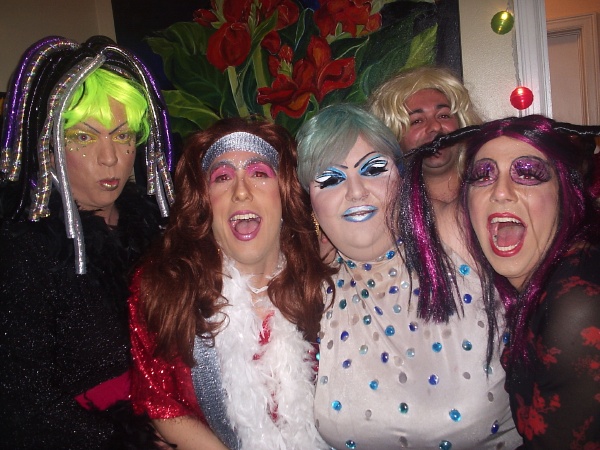 That's Alexandra with the shimmering silver lips. She's a fabulous entertainer at the Le Buzz showbar near Atlanta in Marietta. She's also a contestant in an upcoming National Beauty Pageant; and with so much poise and personality, I think she has an excellent chance of winning. Alexandra was the dealer at our table, and she really represented the party's Vegas in Space theme.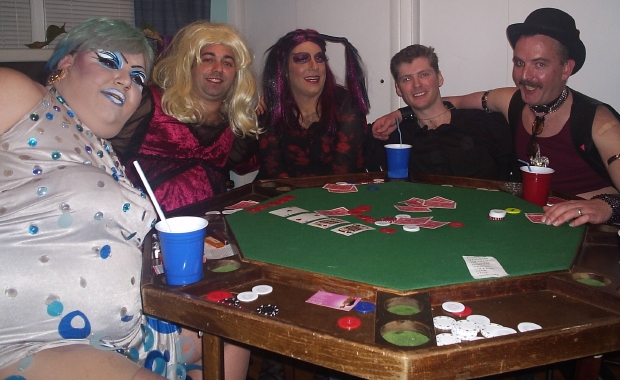 That picture says it all. You wish you were there, I bet!
And now some more about those Jenkins Sisters I mentioned earlier. That's Pinkie Divine Jenkins on the left and her sister Velma Gwen Jenkins below

They think they're the Hilton Sisters - you know, Paris and that other one. Over and over, they exorbitantly raised the betting stakes by hundreds of thousand of dollars and didn't even bat an eye lash. It was hard for those of us who only have regular-size fortunes to keep up. But their devil-may-care attitudes were for naught as neither won the championship jackpot that night.

You can learn more about the Jenkins Family and their socialite friends at their spectacular website
www.Drag-O-Rama.net
| | |
| --- | --- |
| The Vegas in Space Jackpot for the night was won by Missy Winner. Her prize was a mystery beauty pill. Looking so good already, I am looking forward to seeing her again after the beauty pill has taken effect. | |
| | |
| --- | --- |
| | As one might expect in such glamourous situations, Pimp Daddy stopped by to audition some of the girls to work as ho's on his track. Looks like he's picked out another moneymaker for sure. |
Thanks Danny and Dana for such an entertaining evening. We had the very best time.

Love, Betty Jack

These marvelous photographs were taken by Dixie Richardson who accompanied me to the Vegas in Space party. That's a picture of Dixie from her new modelling job. She's doing some print ads for Tanfastic Now.



Dixie Richardson