JOHN SANCHEZ: I saw in the Pop Tarts' press materials that you were childhood friends with Nelson. Did you grow up on the same block or something? From what age did you know him? What was he like as a child? Was he interested in home movies or other kinds of documentation? Where did you know him?
DICK RICHARDS: Nelson and I were best friends from the age of 5 on. As a lonely, only child myself - when my family moved next door to Nelson's and I found out Nelson was going to be my playmate - that was one of the happiest days of my life. We grew up in the 1950' and 60's in a small town in South Carolina. At the city limits on each side of our town was the same sign "The Ku Klux Klan Welcomes You to Kershaw." We were both clocked as sissy/queer early on which didn't make for a pleasant school experience. The rest of the time, however, wasn't always so bad. During that period, our parents generation were exhausted from the wars and there was an interest in sophistication and intellect. Everyone read a lot. Nelson and I had both read Auntie Mame by the time we were 10. Nelson's family was attached to a large cotton fortune and his mother provided him with talented teachers for piano and art. The town's Center Theater screened with 5 different movies a week. Television was full of exciting images of places like New York. The elements are the deep background for Nelson's video art - loving to go out to experience the glamour of nightclubs and theater after having envied it so long; relishing the freedom that a large city gives for self-expression that a small town scorns.
JOHN: When did he move to Atlanta and what did he do there?
DICK: Nelson never moved to Atlanta. He was all about New York
JOHN: When did he move to New York?
DICK: Nelson moved to New York in 1971 after graduating from college in North Carolina.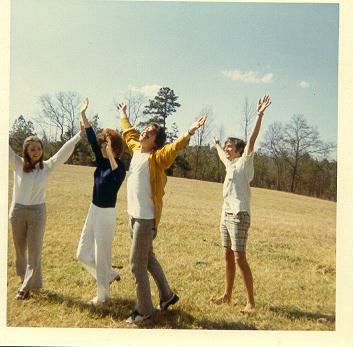 Nelson at college 1970 (in the gold shirt) with Dick (Madras shorts) , Gail (navy blue) and Vicky
photo by Woody Gleason
JOHN: Did you ever hear his compositions? What were they like?
DICK: Nelson was a classically trained pianist and his compositions had that influence.
JOHN: How did he meet Lahoma, Larry Tee, RuPaul, et al?
DICK: I introduced all of them to Nelson. Larry Tee and Lahoma's band Now Explosion persuaded me and my business partner Ted Rubenstein to release their first record and RuPaul had come into our scene through my cable TV show. These talented kids were all heading up from Atlanta to the Pyramid Club for shows and I got Nelson to go over and videotape them. It was love at first sight and Nelson is totally responsible for the main hookup that got RuPaul where he is today.
JOHN: When did he begin taping, and for what purpose initially?
DICK: 1982 - I had been having fun with The American Music Show cable TV program I had been doing for a while with my pals in Atlanta and Nelson liked what we were doing. Ego centrically I think that inspired him to begin a video project of his own.
JOHN: Did he consciously choose to put his own composing and music on hold in favor of what he saw as the important process of taping?
DICK: This I don't know.
JOHN: How did he develop such a smooth shooting style?
DICK: Nelson had figured out how to look on the lens of the camera rather than through the lens to compose the shot and somehow incorporated that with a natural physical grace that produced such sleek views. The smooth, flowing style was his own creation.
JOHN: Did he talk often about the taping--why he did it?
DICK: He talked about it all the time. He did it because he wanted to. He very much respected the artists who were his friends, was intrigued by the oddities of life, and was in awe of being in New York. He was a diarist and a portraitist using elements of a new technology.
JOHN: How long between quitting his job and his death?
DICK: Only a few days - what a bummer.
JOHN: What do you make of his remarks on the pier on his last night, which could be interpreted as predicting his death.
DICK: Nelson's remarks are so cosmic and The Fourth of July was his favorite holiday. Weird, isn't it?
JOHN: His death: had he been sick? I understand there is some controversy among his friends as to what happened--was there any w/ the coroner, etc? What do you think happened? (If anything is off the record, just tell me so.)
DICK: Nelson was in that group of forgotten Americans that even today have problematic access to health care, so it's hard to know for sure. What I have been told is that the actual croaking was inside a hospital making an autopsy unnecessary. One of Nelson's grandfathers died from a sudden heart attack at the exact same age: perhaps the cause was a genetic disorder.
JOHN: How did you come into possession of the tapes? How often are they shown?
DICK: Nelson and I had formed a partnership to combine our videos into a continuing series. After Nelson's sudden death, the videos remained with me as part of our agreement.
JOHN: Are there copies? Have you seen them all?
DICK: There are copies of many of them but not every one. I have seen a substantial portion of them too. However, Nelson's very first video collaboration Mama Said - which is a drag queen opera about 4 brothers who live as 4 sisters and operate a dilapidated Times Square beauty salon - is so deeply disturbing that time and time again I have never been able to make it through the whole thing.
JOHN: Where have they been exhibited in the past?
DICK: The only exhibit in New York so far was at the Mix experimental film festival in 1995; but in Europe they are exhibited extensively being distributed by Stephane Goel's Climage art group in Lausanne, Switzerland. Stephane was encouraged to do a documentary about Nelson for Swiss television by New York's excellent connection Eric Conrad. Afterwards, Stephane was so engaged by Nelson's artistry that Climage became the primary distributor of Nelson's videos throughout Europe. Programs of Nelson's videos assembled by Climage with additional French and German subtitles have been presented on the Arte cable television cultural channel, at Musee d'Art Contemporain in Lyon, and The Centre national de la photographie in Paris, and other television channels as well.
JOHN: What's your favorite?
DICK: I have many, but in this exhibit I particularly adore the one of RuPaul, Trade and Spicey at the Jane West Hotel because seeing their youthful innocence and optimism against the texture of that rat-infested, flop-house hotel with its majestic rooftop panorama offers so many pleasing contrasts.
JOHN: What are future plans for them?
DICK: I'm not a very proactive planner. Maybe something else will happen next.
JOHN: What do you think about them--what do they mean, what is their value?
DICK: Nelson's videos are beautiful art with an associated experience that simulates time travel.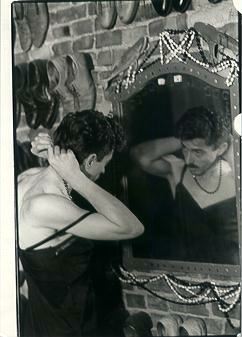 Nelson at home at 5 Ninth Avenue
photo by Paula Gately Tillman
AMERICA'S FRIEND
www.funtone.com