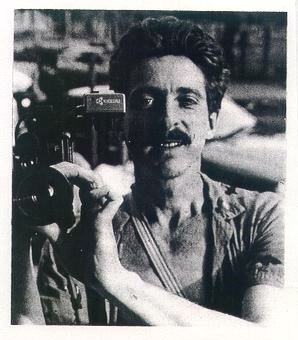 Nelson Sullivan, Leona Helmsley and the new champagne drinkers.
For the last three years Nelson Sullivan and his videocamera have almost been as one. If it's been a happening thing, and even if it hasn't, Nelson has been on hand with camera, documenting the performance - That's how it all began, with an interest in documentation.
He began taking notes with the aim of writing a novel about the life of his Aunt Nancy, a rare and charismatic character from the South. Nelson began taping her phone calls, better to prepare himself for writing the epic tale of her life. And one thing led to another - as it always does - and he began taping all his calls from everyone. Somewhere along the line he realised "a picture is worth a thousand words, and a picture with sound is worth ten thousand words", which is when he went from tape recording phone calls to video recording everything else.
Sullivan has an encyclopaedic archive of the recent explosion of the Downtown scene - from Michael Musto and the Must to Tish and Snooky, Dean and the Weenies, and John Kelly as Joni Mitchell. He began making one or two tapes a week, but soon the documentation process snowballed into a tape a day. He doesn't know how many tapes he has, but estimates it's 200 plus.
Watching one of his tapes is not like watching anything else. It's about as close to being there as you can possibly be. The camera's on from the moment he leaves the house, gets into the taxi and walks into the club, wandering around the bar and the audience and twisting round the corridors backstage, looking at everyone getting ready for the show. For some people the very sight of his lens is enough to precipitate a mini-show '
Starbooty! Starbooty! Starbooty! No. Starbooty! Starbooty! Starbooty! Yea!" they screech. Then he backs up, pans around, returns to the audience and tapes the show. And there are no edits! The only cut is when he turns the camera off when he gets back home.
Sullivan and his camera have not always been a welcome addition at every party. Everyone reacts, of course, but some more hysterically than most. Some people wonder why he does it - is he going to take the footage of Downtown stars doing everything from their first awful shows to getting undressed and trashing one another in the dressing room and sell it for a vast profit once Downtown's become the next big thing? Sullivan looks at it philosophically - as he looks at everything: "Most things today are generated because somewhere along the line someone's going to make a profit from them ... but the truth doesn't have anything to do with money."
It's a curious irony that one has become so used to watching edited footage that unedited footage begins to look like some sort of dirty trick - catching people off-guard, spying on them. Whereas what Sullivan calls "the pravda of the matter" is in fact the other way around. "When a major sporting event is interrupted for five minutes while they run the beer commercials, you know that the original ideals behind that event have been tossed right out of the sixth floor window," he says. "The media right now is confusing the population a lot more than it's enlightening anyone, because we are being fed things that are manipulated and we're being manipulated by them to make good consumers." 'Which is why he lets the camera roll, before, during and after the show. After all, life doesn't come with an on-off switch, channel selector or intermissions - it's on-line till downtime.
Now Sullivan is saying his batteries are dead. Downtown's been packaged to go out-of-town and he doesn't feel the same kind of motivation. One of his proudest moments remains the time when he got to give the Russian pop band Stasnamin a selection of his tapes. For him this was the real 'pravda of the matter.' It's good to think of the Russians sitting round the VCR drinking vodka and watching Lady Bunny being chased screaming round the streets of Manhattan or Now Explosion chanting, "Stick your arms in the air/Show your underarm hair." Last month he flew to San Francisco, where the Diva Hotel featured his videos in its birthday celebrations. The Diva is a hotel after his own heart, with a VCR in every room and its own in-house rental library.
I spoke to him before he left, as he tackled the problem of trying to edit so much material into a selection just a few hours long. Just like the novel was going to write: "It may not be the greatest story ever told, but it's one of the longest." Which is just what they said about Gone With The Wind and War And Peace.
AMERICA'S FRIEND
www.funtone.com