Funtone USA is the official internet home of the Nelson Sullivan Video Collection. Here you will find information about Nelson, his life in video, exhibitions of his videos as well as your opportunity to view and to purchase Nelson Sullivan videos.
Steve Lafreniere presents
Nelson Sullivan's Downtown
| | |
| --- | --- |
| To purchase Steve Lafreniere's Nelson Sullivan's Dowtown on VHS video | |
this really really really really really great picture is a photograph by Paula Gately Tillman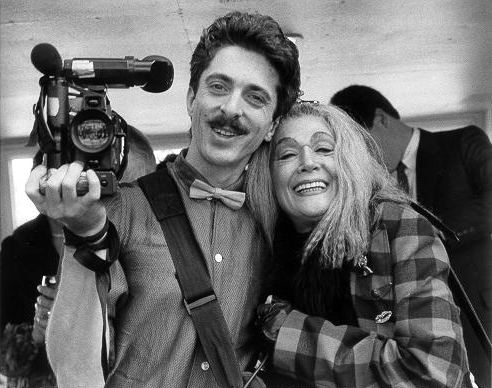 Nelson's best friend and inspiration was the fabulous actress Sylvia Miles. This is the poem he wrote for her.
For Sylvia, a million kisses.
Few are hits: most are misses.
What chance has a superstar
To hear the far-off praises?
She glides in starlight radiance,
A nebula of gravity
Dazzling! points of light condensed
To diamond clarity.
She sparkles in the universe
Aglow with life and wit and mirth
Her levity's alarming! In short
She's simply charming. She conquers
Where the strong are wont
Merely to survive.

If you have questions or requests for additional information about Nelson Sullivan, please e-mail
NelsonInfo@funtone.com
AMERICA'S FRIEND
www.funtone.com