What Looks Good at Sundance? Here's an Early Wish List
BY SEAN P. MEANS SALT LAKE TRIBUNE COLUMNIST
This is an example of how much the Sundance Film Festival has pervaded my personal life: I have to schedule my winter dental appointments for early January, so my hygienist can get out her Sundance film guide and seek my advice on what movies look hot.

My hygienist isn't the only one who asks for the inside buzz. Readers call me at work, co-workers drop by my cubicle, Web surfers e-mail me.

Let me save everybody some trouble right now: Of the 125 movies that Sundance organizers announced would unspool in Park City (and venues in Salt Lake City, Ogden and the Sundance resort) Jan. 16-26, I have seen none. Zero. Zilch. Nada.

Does that mean I don't have an opinion about what's coming? If you said yes, this must be your first time reading this column.

Here are a few titles that are likely to draw attention in Park City come January:

* "Party Monster" (dramatic competition) -- Macaulay Culkin, all grown up, clubhopping and killing people -- oh yeah, the line to get into the first showing of this one will be huge. My interest is less about Li'l Mac than it is to see Fenton Bailey and Randy Barbato, who made "The Eyes of Tammy Faye" (and brought a doc version of the "Party Monster" story to Sundance in '98), try a dramatic feature.
DAILY NEWS: Sundance 2003 Slate and Weekend Box Office
by Eugene Hernandez, Matthew Ross and Brian Brooks/indieWIRE
The Waiting is Over as Sundance Unveils First Group of 2003 Festival Films

(indieWIRE: 12.03.02) -- The countdown to Park City 2003 kicked off in earnest yesterday as the Sundance Institute announced portions of the lineup for the 2003 Sundance Film Festival (the lists are available now in their entirety on indieWIRE.com). Set for January 16 - 26, the festival will offer approximately 120 features this year. Organizers unveiled lists for the dramatic and documentary sections, as well as films set to screen in the American Spectrum and American Showcase sections. To be unveiled later today (Tuesday) are the Premiere, Park City at Midnight, World Cinema, and new World Documentary sections (those lists will be posted on indieWIRE.com at 7 p.m. ET this evening). The shorts lineup will be released next week.

Feature submissions were up sharply this year, as programmers received 2,012 films for consideration (up from 1,740 last year). A total of 832 dramatic features were sent in for the 2003 fest, up from 750 last year (and on par with the 860 film plateau received the previous year). In the doc category, the numbers continue to grow. There were 537 submissions for the competition, up from 440 last year. More numbers will be included in tomorrow's report.

The 2003 Dramatic Competition section features a number of films from top Indiewood producers. Sony Pictures Classics will make a rare competition showing with "All the Real Girls," writer-director David Gordon Green's follow-up to his critically acclaimed debut "George Washington." Killer Films will represent with two co-productions: Todd Graff's "Camp," a summer camp musical comedy co-produced by IFC Films, and Fenton Bailey and Randy Barbato's "Party Monster," which stars Macualay Culkin as the infamous real-life New York club kid-turned-killer Michael Alig. "Party Monster" was co-produced by Ed Pressman and John Schmidt's ContentFilm, which makes a second appearance in the competition line-up with Wayne Kramer's "The Cooler," a story about an Ivy League-educated man who's hired by the mob to re-vamp its casino operations. The film stars William H. Macy and Alec Baldwin.
From Reuters
NEW YORK (Variety) - Dylan McDermott will spend his hiatus from "The Practice" playing nightclub impresario Peter Gatien in "Party Monster," the true story of party promoter and convicted murderer Michael Alig. Macaulay Culkin is playing that role; Seth Green, Marilyn Manson, Chloe Sevigny and Natasha Lyonne round out the cast. Fenton Bailey and Randy Barbato, who did a documentary on Alig, wrote the script for Killer Films and will make their feature directing debut. The film, based on the book "Disco Blood Bath," is a look at the club kid Alig, who grew to some prominence as a party promoter. He was convicted of murdering his drug dealer by injecting him with Drano and tossing him into the East River. Filming begins May 13 in New York. McDermott will be done with the film in plenty of time to return to "The Practice" by the end of July for the Emmy-winning legal drama's seventh season. McDermott's recent feature credits include "Texas Rangers" and "Three to Tango."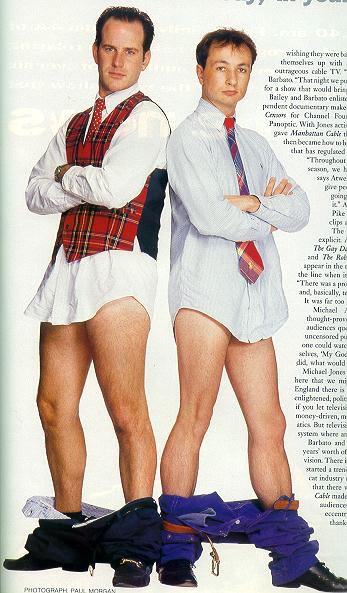 Randy (left) and Fenton from British GQ